This article, written by Christina Philippou, University of Portsmouth and Kieran Maguire, University of Liverpool was originally published on The Conversation:
The rugby club London Irish was founded back in 1898. Almost 100 years later, it became a fully professional club, just in time to join the inaugural season of the Premiership, England's top tier of rugby union.
But now, after 25 years in the Premiership, London Irish has been kicked out for being unable to provide the sport's governing body with "financial assurances". Essentially, it had too much debt and was unable to pay its own staff and players.
London Irish is not alone in its loss of Premiership status. Two other clubs, Wasps and Worcester Warriors have already gone into administration and been expelled this season.
Three teams being booted out of the top tier in less than a year signifies a major problem in English rugby. So are other clubs at risk? And is professional rugby union even economically viable?
Certainly the current finances of the Premiership teams do not inspire confidence. According to the latest available accounts, all of the 13 clubs that started the 2022-23 season made a loss last year.
Eight of them had negative equity, meaning that they were technically insolvent and being subsidised by their owners. Worcester and London Irish were among that group, while Wasps had healthy equity (club value), but a relatively high level of debt.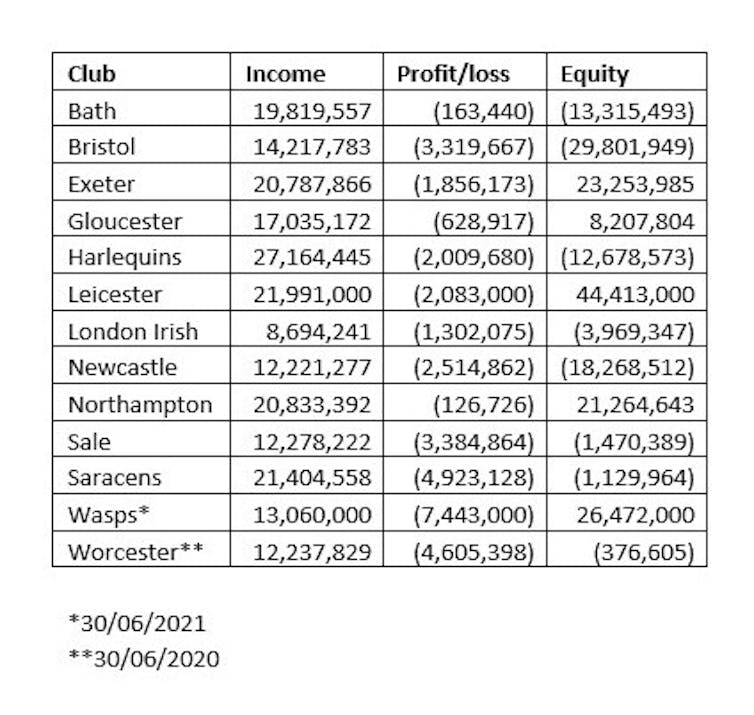 Their woes are just the latest in rugby union's long history of financial problems. And while there have been efforts to bring stability to the sport's finances, such as controlling costs through salary caps, clearly the problem has not been solved.
There was also a lucrative sounding partnership between the Premiership and a private equity firm in 2019 which gave clubs a cash injection of more than £200 million in exchange for a 27% share of the organisation. But this money provided a one-off short-term boost to club finances, and financial instability remains.
Turnover
All rugby clubs have three main sources of income: ticket sales on match days, sponsorship and broadcasting. Match day income is the most important – but it varies from match to match, with 16,400 the highest average weekend attendance this past season.
The sponsorship income can also vary and depends on interest from fans. Sponsors also like stability, so clubs being at risk of collapse affects their arrangements, because cancelled fixtures (when an opposition team has gone into administration for example) and uncertainty about viability of the league as a whole makes investing risky.
On the broadcasting side of things, rugby union was comparatively late to professionalise. Other sports such as football and golf had already locked themselves in the main broadcasters' sporting calendar when rugby came to the table in the late 1990s. As a result, rugby's broadcast revenue is fairly low (£40 million a year for rugby's Premiership compared to £1.6 billion for Premier League football).
Another vital issue that rugby faces is a lack of integration within the sport itself. For example, English club football has an international break to allow players to turn out for their national teams at various points in the year.
Premiership rugby, on the other hand, continues during events like the hugely popular Six Nations tournament, which diminishes club squads and viewer numbers. This affects all three types of revenue.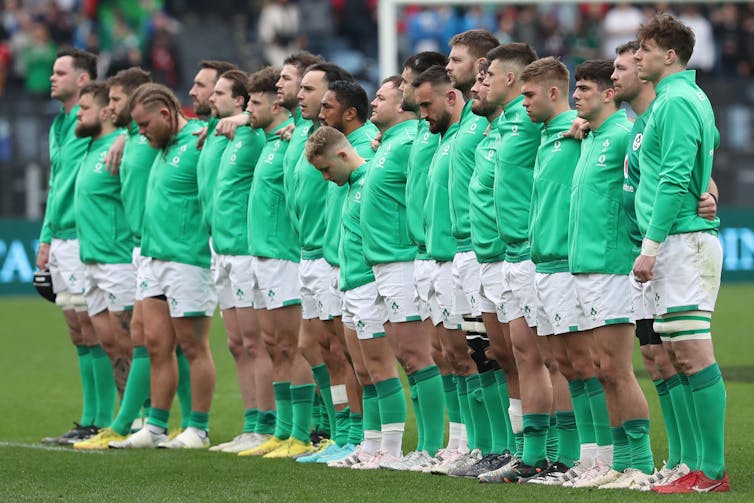 Where Premiership rugby does have an advantage over other team sports is the competitive balance, which means results are rarely predictable. This is good for broadcasters, as it makes it more exciting and appealing for viewers.
But next season will not be very exciting for the loyal fans of London Irish, Wasps and Worcester Warriors. After the last two went into administration in 2022, the UK government launched a parliamentary enquiry to address concerns around the sport. Independent advisers have now been appointed to work on the stability of rugby.
This is not the first time the UK government have got involved in sport. In football, the proposed introduction of an independent regulator was a reaction to the the fragile state of club finances. When we looked in detail into the financial sustainability of football clubs in 2022, we found similar problems to the ones being seen in rugby.
Put simply, to achieve economic viability and improve revenue from all three income streams, rugby union needs to evolve in a way which encourages growth and attract more interest. New audiences are vital, such as those seen recently in women's international rugby. Targeting younger audiences through social media would help too, as would working to shed rugby's image as an elitist sport.
For now though, participation in grassroots rugby is falling – which is bad news, as research shows that people who play a sport are more likely to watch it.
If that trend continues, the business side of rugby will struggle – and more clubs with proud histories will be end up paying the ultimate penalty.

Christina Philippou, Principal Lecturer, Accounting, Economics and Finance, University of Portsmouth and Kieran Maguire, Senior Teacher in Accountancy and member of Football Industries Group, University of Liverpool
This article is republished from The Conversation under a Creative Commons license. Read the original article.